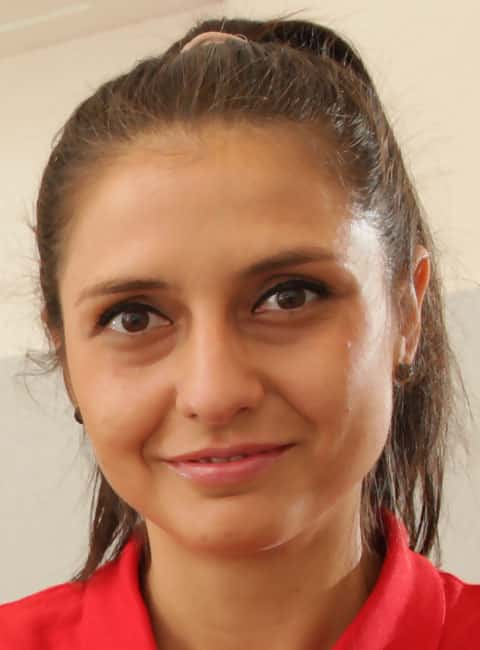 Dr. Ameliya Zikovska
Endodontologe
Sie ist im Bereich der Endodontie und im Bereich der ästhetischen Zahnmedizintätig und entwickelt sich in diesen Bereichen weiter.
Dr. Ameliya Zikovska hat ein Studium der Zahnmedizin an der Medizinischen Universität Sofia absolviert.
Sie hat eine Reihe Qualifikationskurse auf dem entsprechenden Fachgebiet belegt:
» Pragmatische Ästhetik mit modernen Kompositmaterialien"– Dr. Trevor Burke, 2010
» Temporary crowns and bridges. Temporization of porcelain veneers – Dr. Leendert Boksman, 2010
» Direct esthetic restoration in anterior teeth – master course Prof. Dr. Angelo Putignano, 2011
» All ceramics – Dr. Nasser Barghi, 2011
» Direct restorations with composites: Practical, aesthetic and successful – Dr. Didier Dietsch, 2012
» Dental hand-on course: what you see is what you get – Dr. Jan Berghmans – Belgium, 2012
» Using the dental operating microscope. Endodontic treatment in everyday practice. Machine processing with protapernext"– Prof. Giuseppe Cantatore, 2013
» Using the dental operating microscope. Removal of posts and fractured instruments – Prof. Arnaldo Castellucci, 2013
» Management of iatrogenic events diagnosis and management of root resorption searching for hidden canals – Dr. Marga Ree – Netherlands 2014
» Root canal preparation and obturation systems – Dr. Antonis Chaniotis, 2014
» Sie beherrscht Englisch und Italienisch.